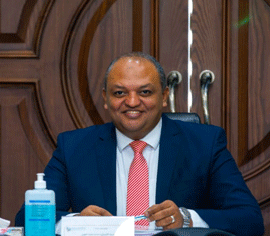 CEO & Chairman
Since the moment I got honored by the genuine confidence the Minister of Petroleum and Mineral Resources has vested in me to take the chairmanship of Petroleum Logistics Services Company (PLS), my main objective has always been to forge ahead with carrying out the steps that has been previously taken for building a world-class organization that adopts the best work and management standards, via implementing the latest scientific systems in Logistics service industry, in the favor of achieving the goals of the Ministry of Petroleum and Mineral Resources, by imposing the utmost exploitation of the sector companies' available assets and turning Egypt into a regional hub for handling and trading energy, build on a set of pillars, which are based upon both, a proper foundation and global best practices within this field, focusing on achieving sustainable growth.
In that regard, we harness our entire potential in pursuit of supporting and developing our human resources of all categories, which is considered to be our organization's main capital. Depending on managing competencies for establishing a competitive advantage, by ensuring our full commitment towards our customers, shareholders and the communities that we serve to create and provide an added value with the highest safety and quality standards, as well as granting environmental protection, transparency and integrity.
We shall spare no effort to achieve a pioneering national model for sustainable development and continuous evolution, in order to fulfill the Egyptian Petroleum Sector's unified vision to thoroughly bear a hand with sustainable development for the benefit of our beloved country.
Long live Egypt ……… Long live Egypt ……… Long live Egypt

Chemist/ Hossam Mohamed El Fahmy
Chairman & CEO